Franklin Energy Announces Founder Paul Schueller Moving to Board of Directors, Industry Veteran Jim Madej New CEO
July 20, 2020 •Franklin Energy
PORT WASHINGTON, Wis. – Franklin Energy and AM Conservation Group, the leading demand-side management firm in the utility industry, announced today the appointment of Jim Madej as the company's new chief executive officer. Madej succeeds founder Paul Schueller, who has served as CEO since Franklin Energy's inception in 1994 and recently announced his transition to the company's board of directors.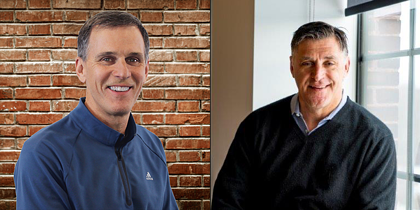 Madej will guide the strategic direction and lead the executive teams of Franklin Energy and AM Conservation Group. With more than 30 years in the energy industry, Madej brings an extensive background in business transformation, operational leadership, energy efficiency and customer experience.
"I'm happy to welcome Jim into our Franklin Energy and AM Conservation Group family," said Schueller. "It was important for us to find someone with industry experience, who fits into our culture and could help our exceptional team continue to evolve. Stepping back isn't easy, but I am confident that Jim will take the reins and continue to push this organization forward, while holding true to our core focus."
Madej was most recently CEO at Vermont Energy Investment Corporation (VEIC), where he led the company through an extensive transformation, driving improvements in customer diversification, security, leadership, product development, and branding. Prior to that, Madej was the Chief Customer Officer at National Grid USA and the Director of National Sales and Service at Hess Corporation. He also held numerous leadership roles at General Electric, where he began his career. Madej currently sits on the Board of Vermont Public Broadcast System (VT PBS) and is an advisory board member of Custom Essence.
"I am excited to be joining a company with incredibly deep expertise and capabilities that can integrate people, platforms and products to better support the modern customer journey," said Madej. "Growing and optimizing business for a sustainable energy future is my passion and it's uniquely aligned with Franklin Energy and AM Conservation Group's purpose. We're at a critical point in our industry's evolution and I believe we're well-suited to deliver the innovative, customer-focused solutions our industry needs."
About Franklin Energy
Franklin Energy delivers flexible energy efficiency and grid optimization programs that enable utilities to achieve their highest-priority goals. The company's integrated in-house services and proven software provide deeper personalization and insights, acting as a true partner to utilities. Franklin's NGAGE™ platform is a scalable end-to-end technology that seamlessly integrates utility portfolio programs into a single interface for more efficient management and more effective customer engagement. The company is celebrating its 25th year serving the utility industry, with solutions implemented by more than 1,000 experts in more than 60 offices across 26 states and provinces.
About AM Conservation Group
Since 1989, AM Conservation Group has been the utility industry's leading provider of energy- and water-saving products, kits and online stores. We manufacture and distribute nearly 400 energy efficiency and water conservation products, which are custom engineered for the unique needs of the industry and carry ENERGY STAR® and WaterSense® certifications. AM Conservation Group's product lines include Niagara Conservation and Simply Conserve®.